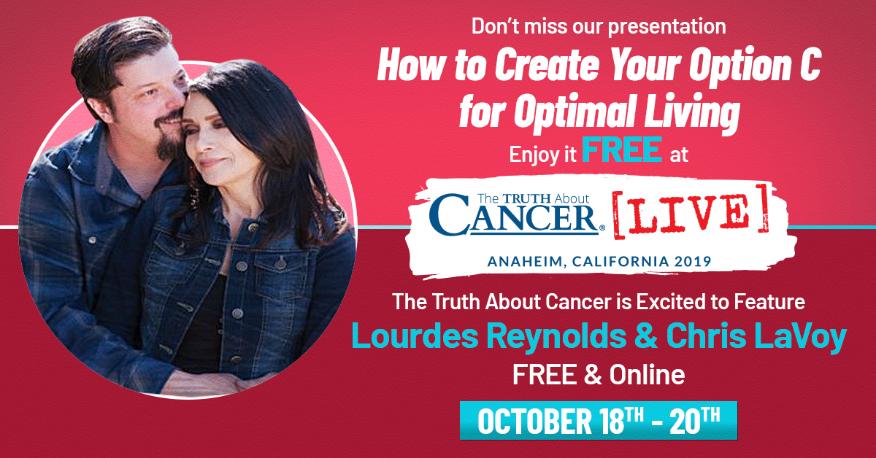 [TTAC Live 2019] Cancer Live Event coming (How to watch FREE)
If you haven't heard, 'The Truth About Cancer' are going to be live streaming their BIG 2019 "live event" and you can watch the whole thing for FREE from your own home.
This is a really special event that you should not miss. So special that my husband Chris and I will be there as Keynote Speakers with an extraordinary group of speakers sharing great information you won't want to miss. But you don't have to leave your living room.
ALL THE INFORMATION IS RIGHT HERE
It's pretty much everything you ever wanted to know about staying healthy in a toxic world, fighting and preventing cancer and other chronic diseases, and maintaining our vaccine freedom of choice … all jam-packed into one weekend.

Click here to register and you can watch the whole thing for FREE!
Now, you may be asking, "What's the catch?" Well, there really is no catch. People attending the event in person paid a hefty price for tickets, but watching the live stream online is totally FREE for you.
You'll be offered a chance to purchase the recordings - but that's it. I want you to watch this because I know there's going to be some cutting-edge (and life-saving) information in this extraordinary event.

Click here to register and get your name on the list.

Speak soon! ;-)
Lourdes & Chris

P.S. The list of speakers is truly a "Who's Who" of natural healing and cancer therapies… including superstars like Robert F. Kennedy, Jr., Dr. Josh Axe, Dr. Patrick Quillin, Dr. David Jockers, David Avocado Wolfe, Dr. Andrew Wakefield, Del Bigtree, Cherie Calbom, Dr. Eric & Sabrina Zielinski, Jordan Rubin, Carol Alt, Dr. Rashid Buttar, Dr. Sherry Tenpenny, Amazon John Easterling, Dr. Edward Group, Billy DeMoss, Jeffrey Smith, My hubby Chris and myself, and the list goes on! You don't want to miss this event!

WATCH for FREE in the comfort of your home.